By Addison Tyre
Toyo tyres are premium quality and offer excellent grip as well as high mileage. So whether you drive a sports car, family car, SUV or van. You will be more than impressed with Toyo tyres. If your looking for cheapest prices on Toyo tyres then contact us for a quote. Buy eligible Toyo tyres and claim up to £40 Amazon vouchers see terms and conditions below. Toyo tyres also now offer a road hazard warranty with there tyres so if you accidentally damage your Toyo tyre then you have the peace of mind that we have it covered even down to 3mm tread depth! Toyo tyres have been manufacturing tyres since 1945 so over 75 years of experience in the tyre industry.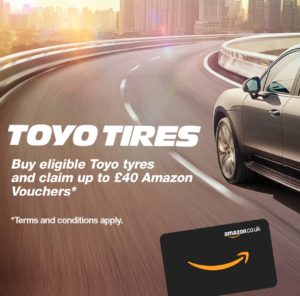 Terms and Conditions
Conditions of participation for the Toyo voucher campaign from 01.03.2020 – 30.04.2020
With the purchase of 2x or 4x Toyo tyres according to the following conditions, Toyo Tyres UK Ltd (hereinafter referred to as "Toyo Tires") offers non-commercial end consumers (hereinafter referred to as "Customer") the opportunity to request an Amazon voucher up to the value of £40. Purchase 2 qualifying tyres and get a £15 Amazon Voucher, purchase 4 qualifying tyres 15″ and below and get a £25 Amazon Voucher, or, purchase 4 qualifying tyres 16″ and above and get a £40 Amazon voucher.
1. Period
The Toyo voucher campaign will take place between 01.03.2020 and 30.04.2020 for all participating official Toyo dealers*. Requests for the voucher can only be made within this period and a maximum of 14 days thereafter.
2. Assortment restrictions
The offer is limited to the sale of at least one pair of matching size and model tyres from 13 inches and above from the below models.
 NanoEnergy 3
 NanoEnergy Van
 Proxes CF2 & CF2 SUV
 Proxes Sport & Proxes Sport SUV
 Proxes T1-Sport & Proxes T1-Sport SUV
 Proxes TR1
 Proxes T1R
 Celsius
 Open Country M/T – A/T+ & U/T
Toyo OE Fitments (where available) 
3. Participants and procedure
Any non-commercial end user who is 18 years of age or older and who buys tyres from any of the participating official Toyo dealers* within the UK or Northern Ireland in their own name and not in a commercial manner within the campaign period mentioned. Only 1 entry per person is valid to participate. (Invoice date counts) 'Official Toyo Dealers' are tyre specialist dealers who can be found via the dealer search on https://www.toyo.co.uk/dealer. (Not all featured dealers are participating in this promotion. See below*). The promotion only applies to the TOYO TIRES brand tyre patterns listed under 2.