We are proud members of Point S, the worldwide leading independent tyre dealer network with over 5500 depots in 38 countries and over 18 million tyres sold per year! With this enormous buying power, we can offer our customers internet beating prices on budget and premium top brand tyres.
4 Wheel Alignment (Front & Rear Wheel Alignment)
Get yours checked here today by our Hunter trained technicians. Wheel alignment is of prior importance to your vehicle, if the tracking, toe or camber is out of alignment this can result in damage to your tyres and will force you to keep replacing cheap tyres before necessary.  Wheel alignment is an inexpensive way to prolong the life of the tyres on your vehicle, we offer a 'free check' If adjustment is required we charge a fraction of the cost that you would pay at the main dealer and they will use the same equipment. We are able to offer the highest level of service and support with any wheel alignment and suspension geometry problem you may have, whether it is accident related or you simply have handling concerns or tracking concerns with your vehicle.
Improves fuel consumption
Improves car handling
Prolongs Tyre Life
We have invested in the latest award-winning 'Hunter HawkEye' Premium 4 Wheel Computer Wheel Alignment system with the latest version of CodeLink®. It has four high definition digital cameras, which provide continuous alignment measurements and within seconds create a 3D image of your suspension measurements allowing us to quickly and accurately adjust your vehicle's alignment and geometry within its manufacturer's specifications from the thousands of models held within the software database, even American and Japanese import specifications can be obtained via the Hunter web spec directly from the US to the UK in seconds.
We can align all makes of cars
We can align most long wheel base vans, for example, Mercedes Sprinter, VW Crafter, Ford Transit
What People Are Saying About Us
The Process for 4 Wheel Computer Alignment
Our equipment offers 'Total Alignment' which is far more accurate than most garages offering standard tracking or laser alignment. We are one of the only garages in the West Midlands to have this new technology to offer our customers. Our equipment is equipped with CodeLink®. Many new models have a steering wheel angle sensor on the steering wheel, which the CodeLink® diagnostics equipment enables us to calibrate and reset the vehicles steering wheel geometry to ensure the steering wheel is perfectly centralised.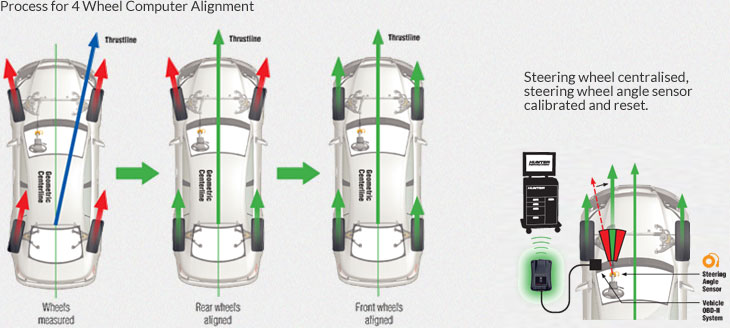 Print Out

x

Print out given to customers showing all data settings as per manufacturers specifications.

CodeLink

x

If a vehicle is equipped with CodeLink® then we will also provide a printout. Over 25 million vehicles require Steering Angle Sensors reset and this figure is growing. All vehicles should be manufactured with Electronic Stability Control. Many will require a SAS reset and we can reset all models with our CodeLink®.
Frequently Asked Questions
Please find below a selection of FAQs. If you have any additional questions please do not hesitate to get in touch.
Tracking and 4 wheel alignment, are they the same?

Tracking is an out of date system which many garages still use and fails to cure the tyre wear and off set steering wheel problems on a modern car. Tracking only measures one angle and only the front wheels are adjusted.

Tracking checks across the axle for total toe using a light or laser beam or older equipment with a 'scope', there is no test for run out compensation which means that the reading will only be approximate.

4 wheel computer alignment is the only recognised system by vehicle manufacturers to align a modern vehicle. Many vehicles have diagnostics which also must be reset as part of the wheel alignment process. 4 wheel alignment gives a measurement of no less than 12 angles. Run out compensation is measured to check for buckled wheels, the steering wheel is accurately set level and locked in position while the adjustment is carried out on all four wheels if applicable.

All vehicles must be set to factory alignment settings using data supplied by the manufacturers.

My steering wheel is off centre and my tyres are wearing on the inside shoulders?

The steering wheel fault is common when only tracking has been performed and the adjustment on the track rod ends is not level. Excessive inner tyre wear is normally due to excessive toe-out, which will normally show on both tyres on the same axle.

What will 4 Wheel Alignment cost me?

The cost depends on how much adjustment your vehicle needs and how much time is needed to complete the job. We offer a 'free' check with no obligation and we will confirm the cost of the adjustment once we have the initial measurement.

Can you guarantee to solve the problem?

We do give a guarantee with all wheel alignment, but generally, if your car does not drive correctly after an adjustment it normally means the car has a mechanical fault or bent components. However, if this is the case, we should be able to diagnose the problem for you.

Can you align my car with worn tyres?

We can still accurately adjust your vehicle with worn tyres, but we always recommend to replace any tyres worn below 1.6mm tread depth. Worn tyres can seriously effect the handling of the vehicle, especially at high speed, so replacing them before the wheel alignment is always the best idea.

Has your equipment got the correct alignment data for my car?

Yes. We have an enormous database directly from the manufacturers. This is updated on a regular basis. On rare occasions, some new models or imports may not be on our database. However, we have access to webspecs that allow us to download the information immediately online.

Do I need to get my wheel alignment checked on a regular basis?

It is recommended to get your wheel alignment checked annually or every 15,000 miles. If you have any steering components replaced or if you hit a pot hole or kerb, then call in for a 'free check'. It could save you a lot of money.

Who uses Hunter HawkEye Premium 4 wheel Computer Alignment?

These Manufacturers use the Hunter system in their service departments.

Wheel Alignment Using Hunter HawkEye

4 Wheel Alignment on BMW X5

Aston Martin DBS 4 Wheel Alignment

Hunter HawkEye equipped with Codelink

Buckle Wheel Repair