By Addison Tyre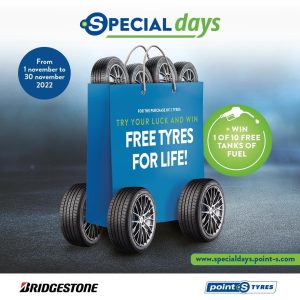 Huge congratulations to our prize winner Stephen Rogers. He bought a set of Point S tyres and entered the Special days competition in November 2022.
The customer plays a roulette wheel online to see if can win free tank of fuel, if unsuccessful you are then entered into the prize draw to win free tyres for life. This competition was run throughout the Point S depots in UK and Europe.
When I rang Stephen to tell him he had won the top prize (Free tyres for life) Which gave him a payment into his bank of £7,000 he could not believe it!
One good reason to visit your local Point S dealer, great prices on tyres, great service and great competitions!
Google review from Stephen about his Point S tyres and our service…

Took my Audi in with vibration issues, all the staff couldn't have been more helpful. Within 30 minutes they had discussed what the process they had available to fix any issues that would arise and had completed the job. Would highly recommend anyone to use Addison Tyres and i will without a doubt use them again, thanks!
Visited Addison Tyres in December as i needed four new tyres. After looking at a few different brands I was recommend by Jason the Point S Tyres. The service was outstanding yet again by all the staff. The tyres were fitted quickly, i also had the lazer 4 wheel alignment check which was great value as my front wheels were out of specification but soon rectified. The service yet again was second to none, can't fault Jason and his expert team.
I've now had the Point S Tyres on my car for two months, the grip from these tyres are fantastic, with all the recent rain and cold weather including snow and ice, i can't fault the grip! I would recommend anyone to try these and i already have to friends and family. Keep up the great work and customer service.