By Addison Tyre
THIOS PROMOTION HAS NOW ENDED 31/05/2021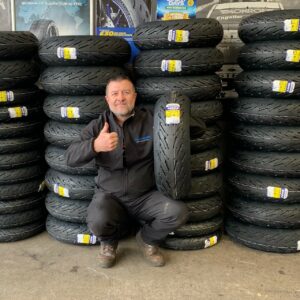 Contact us by filling in get a quote form on our website or you can call us on 0121 557 4019
TERMS AND CONDITIONS
The "Michelin Fitting Incentive" (the "Promotion") is open to all Michelin Quality Centre Dealers who are based in UK and Republic of Ireland ("ROI") and selective advocate dealers (collectively known as the "Participating Dealer").
By participating in the Promotion, the Participating Dealer agrees to be bound by these terms and conditions and by any other requirements set out in any promotional material provided by Michelin. The Promoter reserves the right to refuse entry or refuse to award the contribution to Participating Dealer in breach of these terms.
If the Participating Dealer fits a pair of the Eligible Tyres to a vehicle or loose wheels between 1st March 2021 and 30th April 2021, Michelin shall contribute in the following amounts:

Tier 1 Tyres: a maximum of £30 (UK account dealers)/35€ (ROI account dealers); and/or
Tier 2 Tyres: a maximum of £15 (UK account dealers)/17.5€ (ROI account dealers);
to the Participating Dealer's fitting costs. The amount payable will be equal to the fitting cost charged by the Participating Dealer to the purchaser (up to the maximum amounts detailed above) and set out on a valid invoice (if requested).
Promotion only applicable to the following tyres:

Tier 1: MICHELIN Power SuperMoto, MICHELIN Power Rain, MICHELIN Power Slick 2, MICHELIN Power Cup 2, MICHELIN Power 5, MICHELIN Power GP, MICHELIN Road 5, MICHELIN Road 5 GT, MICHELIN Road 5 Trail, MICHELIN Anakee Adventure, MICHELIN Anakee Wild, MICHELIN Commander III Cruiser, MICHELIN Commander III Touring and MICHELIN Scorcher (all types)
Tier 2: MICHELIN Road Classic, MICHELIN Pilot Power 2CT, MICHELIN Pilot Road 3, MICHELIN Pilot Road 4;
also known as the "Eligible Tyres".
only eligible tyres will qualify for promotion
For avoidance of doubt all tyres must be fitted by the Participating Dealer to a motorcycle or fitted to loose wheels to be eligible to claim under the Promotion.
Completed claim forms should be uploaded to motorcycle-offers.michelin.co.uk/uk/tyre-fitment-rebate (or motorcycle-offers.michelin.co.uk/roi/tyre-fitment-rebate for ROI dealers). Alternately it can be emailed to michelinteambikes@mrm.co.uk or posted to Michelin Motorcycle Fitting Campaign, PO Box 504, Leicester, LE64 0AE
Michelin will request each Participating Dealer to submit a copy of 10% of all invoices (selected at random by MRM). Each invoice must show the date, the model of Eligible Tyres purchased and the reduction in fitting charges (up to the maximum amounts stated above) awarded to the purchaser under the terms of this Promotion to enable validation of the claims. Each invoice must clearly show a breakdown of the fitting charges. If a Participating Dealer is unable to provide the requested invoices, the Promoter reserves the right to request further copies of invoices for any or all claims being made and/or refuse to make payment relating to the relevant claim(s).
No personal data of the purchaser should be visible on any invoices sent to MRM. In the event that invoices include any personal data, please redact the personal data before submission . Lost, incomplete, invalid, illegible or late claim forms or invoices will not be accepted.
The Promoter/MRM reserves the right to discard illegible claim forms or invoices. The Promoter reserves the right to dispute a claim if it believes the claim is not legitimate. The Promoter's decision is final and the Promoter withholds the right to withdraw this Promotion at any time.
Contributions for valid claims will be paid by way of a credit to a Participating Dealers Michelin account in the currency of the account. No cash alternative will be offered. This Promotion cannot be used in conjunction with any other offers. The Promoter will not be liable for any tax liability in whole or part incurred by claimants as a result of this Promotion.
Where possible, claims should be submitted monthly at the end of each month for claims made within that month.