By Addison Tyre
Fill in get a quote section on our website or call us on 01215574019 We will need your tyre sizes and reg of bike…
We have been Michelin approved dealer for many years now and offering great deals on Michelin motorcycle tyres.
Contact us for a quote and mention the promotion deal. T's & C's apply and offer is only on certain pairs.
offer ends 31.08.2020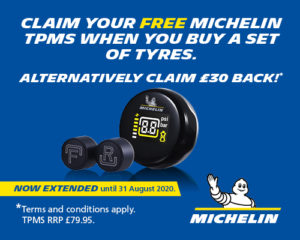 1.
The Michelin "Which rider will you be today?" Promotion is open to all retail consumers who are UK residents, except employees of the Promoter, their families, agents or any third party directly associated with administration of this Promotion.
2.
By participating in this Promotion, claimants agreed to be bound by these terms and conditions and by any other requirements set out in the promotional material. The Promoter reserves the right to refuse entry, or refuse to award a rebate to anyone in breach of these terms.
3.
Internet access required. Purchase necessary and copy of purchase invoice required. To qualify for the Promotion and to receive a Michelin/Fit2Go Motorcycle Tyre Pressure Monitoring System or £30 Michelin rebate, claimants must purchase a pair of Michelin tyres listed in section 4 in one transaction between 1 June 2020 and 31 August 2020 from a participating dealer which must be fitted to a motorcycle by that same dealer. Promotion limited to one claim per motorcycle and online tyre purchases are not eligible for this Promotion.
4.
Eligible tyres

MICHELIN Power Supermoto, MICHELIN Power Rain, MICHELIN Power Slick 2, MICHELIN Power Cup 2, MICHELIN Power 5, MICHELIN Power GP, MICHELIN Road 5 GT, MICHELIN Road 5, MICHELIN Road 5 Trail, MICHELIN Anakee Adventure, MICHELIN Anakee Wild, MICHELIN Commander III and MICHELIN Scorcher.

5.
Promotion only available at participating tyre dealers. A list of participating dealers can be found at motorcycle-offers.michelin.co.uk. If claimants are in doubt please ask your tyre dealer if your purchase will qualify for this Promotion.
6.
To claim the Michelin rebate, claimants are required to by no later than midnight on 14 August 2020: (i) register their claim on motorcycle-offers.michelin.co.uk  (Website); and (ii) upload on the Website a clear and legible purchase invoice highlighting the tyres purchased and by clicking "start your claim" and enter their bank account details directly on the Website. It is recommended that claimants keep a copy of their purchase invoice for their records.
7.
The purchase invoice must legibly include: (i) the claimant's name, (ii) the tyre details; and (iii) a visible invoice number. A cash register ticket or credit card receipt is not sufficient to make a claim.
8.
Closing date for receipt of claims is 14th Sep 2020, claims received after this date will not be processed.
9.
By participating in this Promotion, claimants will submit personal data on the Website to a third party (namely Multi Resource Marketing (MRM)) who will process the rebate and to check the identity of claimant (where applicable). Claimants will receive the Michelin/Fit2Go Tyre Pressure Monitoring System or the rebate by bank transfer within two weeks of submitting their claim in accordance with the process set out in section 6.
10.
Personal data supplied during the course of this Promotion will be collected by MRM only insofar as required for fulfilment/delivery/arrangement of the rebate. Please see further details in the privacy statement set out below.
11.
Only one claim per motorcycle is permitted. Entry into this Promotion cannot be in conjunction with any other Michelin offer. The Promoter reserves the right to: (i) discard illegible purchase invoices; and (ii) to dispute a claim if it believes the claim is not legitimate.
12.
To the extent permitted by law, the Promoter, its agents or distributors will not in any circumstances be responsible or liable to compensate claimants or accept any liability for any loss, damage, personal injury or death occurring as a result of taking up the rebate except where it is directly caused by the negligence of the Promoter, its agents or distributors or that of their employees. Claimants' statutory rights are not affected.
13.
The Promoter accepts no responsibility for registrations not successfully completed due to a technical fault, technical malfunction, computer hardware or software failure, satellite, network or server failure of any kind.
14.
The Promoter reserves the right to replace the rebate offer with an alternative offer of equal or higher value if circumstances beyond the Promoter's control make it necessary to do so.
15.
The Promoter reserves the right to hold void, cancel, suspend, or amend the Promotion where it becomes necessary to do so. The Promoter's decision is final.
16.
This Promotion is governed by English law and the parties submit to the exclusive jurisdiction of the English courts.
17.
Promoter: Michelin Tyre PLC of Campbell Road, Stoke-on-Trent, ST4 4EY.
18.
Claim related queries must be sent to MRM via MRM, Barberton House, Farndon Road, Market Harborough, LE16 9NR with the reference "Which rider will you be today?" or on 0300 303 3585
Privacy statement
Michelin Tyre plc (the "Promoter") acts as a Data Controller for this Promotion. Personal data collected for the purpose of administering this Promotion is being collected by Multi Resource Marketing (MRM) for and on behalf of the Promoter solely to issue the Promotional rebate and to check the information you have provided to us. Such data will only be shared with us to the extent required pursuant to the administration of the Promotion. You can contact Michelin's data protection officer by emailing legal.general@michelin.com. You can request access to your data, update inaccurate or incomplete data, object to the processing of your data and suppress information which relates to you. You may also have the right to request the deletion of personal data or restrict the processing of your personal data. For further information on your rights, see the ICO's website www.ico.org.uk. If you are not happy with how we deal with your personal data, you can lodge a complaint with the ICO. Please see https://www.michelin.co.uk/privacy-policy for further details.
MRM will process your data based on the Promotion terms and conditions. The Promoter will only retain claimants' information for up to six months following the last receipt of a rebate. MRM may hold personal data for six year for accounting purposes The collection of claimants' personal data is mandatory to participate in this Promotion. Any claimant exercising their right to have their personal data deleted before the end of the Promotion will therefore be deemed to have waived their participation insofar as it will no longer be possible to reimburse them.