By Addison Tyre
When you buy a promotion pair of Avon motorcycle tyres you will receive £30 reward.
Avon motorcycle tyres are designed and made in Great Britain so a great reason to buy them.
They are proven to give great performance for mileage and grip and are a premium tyre.
Ends 31/08/2020
Contact us for your quote on Avon motorcycle tyres 01215574019 or email sales@addisontyrecentre.co.uk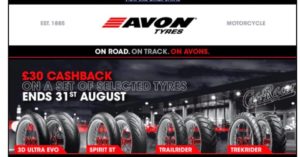 How to claim: https://www.avontyres.com/en-gb/cashback/
https://www.avontyres.com/en-gb/cashback/terms-and-conditions-cashback/